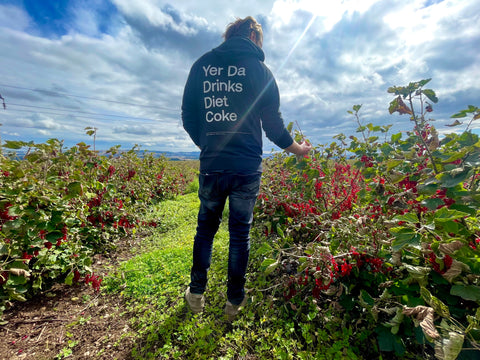 FAQs
WHAT IS SO SPECIAL ABOUT RAPSCALLION_SODA?
95% of soft drinks are made with artificial ingredients and utilise cheap commercial shortcuts to extend shelf life and mimic natural flavours and aromas. We don't.
We handle raw, premium quality fruit every week and engineer flavour and aroma from the ingredients themselves. The process is much harder, but ensures a superior product.
We are vertically integrated, meaning we are in full control of the quality we produce. No can leaves our site before sign off by our Boss Lady, Sophie.
HOW MANY CALORIES IN A CAN?
All of our products are super low calorie, ranging from 38 to 55 with our Core and Seasonal range. Healthy drinking doesn't have to be boring. Because we extract the natural sweetness from the fruit, it means we don't have to rely on sugar or artificial additives to carry flavour.
FYI: Standard tonic water contains 70+ calories!
DO WE USE SWEETENERS?
No.
We use raw organic cane sugar. Unrefined sugar contains no unnecessary additives and provides a steady release of energy and a clean long lasting taste.
Why? Because artificial sweeteners confuse your insulin levels and have been linked to serious health issues.
WHY RAW?
Because what you can legally call 'natural' in the food & drink industry is absolutely wild.
We decided to draw a line in the sand. We describe 'raw' ingredients as fresh, 100% natural, grown ingredients often collected from the farmers themselves. 
Raw tastes better, its better for you, and better for the businesses around us.
MY PRODUCT IS 'OUT OF STOCK'
At busy times of the year, we do run out of stock. We are producing on site every week and stock will be replaced in 7-14 days at most unless of course it is a seasonal product. 
WHEN ARE SEASONALS AVAILABLE
Every year we are at the mercy of Scottish weather, but we operate a loose schedule each year.
S_01 Rhubarb production starts around April and we launch around June.
S_02 Strawberry production starts in June and we launch around July.
S_03 Cranachan production starts in August and we launch around September/October.
Our X_Series products will soon be available throughout the year. 
DO YOU SELL SMALLER PACKS
We cannot yet absorb the shipping costs on a 6 pack. Sorry.
We will start opening up 6 pack collections on-site in Glasgow from 2023! Just let us install our badass machinery first.
SHELF LIFE
All of our Core products have a 'Best Before End' on the label of 12 months from date of production. We produce fresh every week.
These are shelf stable products, and later this year we will be awarded a 12 month BBE for our Seasonal products too, allowing us to increase our batch sizes and sell throughout the year.
We use a 'Best Before' rather than a 'Use by' because this is a natural product which begins to lose it's delicate layers of flavour after 1 year.
PAYMENTS
We accept all major payment providers including Stripe, PayPal, Shopify Pay and all your major credit cards. If we don't have your preferred payment type, please contact us!
Subscription payments are automated and will renew on the day you started.
SHIPPING
We absorb 100% of the shipping across the UK mainland and cover over 50% of the transport costs around the world.
Our standard shipping across the UK should ensure a 48 hour delivery window from point of purchase if you buy from Sunday – Thursday before 10am. We always aim to get your juice to you ASAP.
Anything outwith UK Mainland (like NI, British Isles, Scottish Islands) can take 3-5 days.
Shipping outside the UK can normally take 3-5 days, again, depending on your exact location.
We cannot ensure next-day delivery if you live in the Antarctic!
RETURN POLICY
The policy is stated in our terms at the bottom of the website.
Essentially, we cannot accept returns due to damaged goods, but on rare chance there has been an issue with your collection that was our fault or our courier partners fault, we will replace with very little hesitation. We just need photographic evidence of the parcel and the cans themselves.