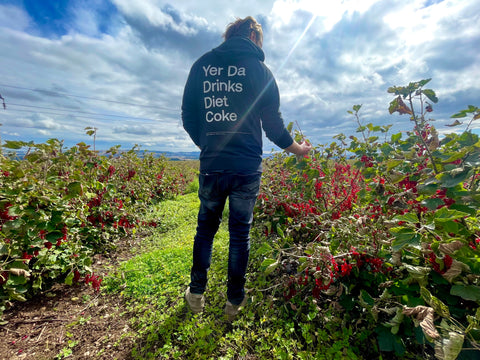 Our Story
Ever wondered what goes into soft drinks? Well we found out, and the picture wasn't pretty.
We dug a little deeper and found most global producers were telling porky-pies in their marketing. It seems daft to us that a 'naturally flavoured' lemonade has never seen a fresh lemon in it's life so we got to work.
Sickly sweet, artificially flavoured, mass produced cans dominated the market but we wanted to go a different direction; fruit from the farmer, and flavour from the fruit.
After well over a decade spent in winemaking, bartending and brewing we began looking for a positive outlet for our unusual skill set, moving away from alcohol and focussing on flavour extraction. We got to work testing and refining the techniques we had mastered with alcohol, and translating those techniques to fruit, water, citrus and spice.  Carbonation had the magical ability to elevate these raw ingredients beyond the sum of their parts, and then we were hooked.
Rapscallion started life trialling our fresh fruit soft drinks down an alleyway in Glasgow back in 2016. Now we have grown to a team of five supplying some of the UK's leading independent venues with our fruit to can ethos.
Our curiosity has never faltered and we continue to test and refine our processes as we transition from handmade processes to automated production at our Innovation HQ in the Gorbals. Our aims have never changed but we are constantly improving and refining our processes.
Everyday is a school day. Fresh cans, from us to you.