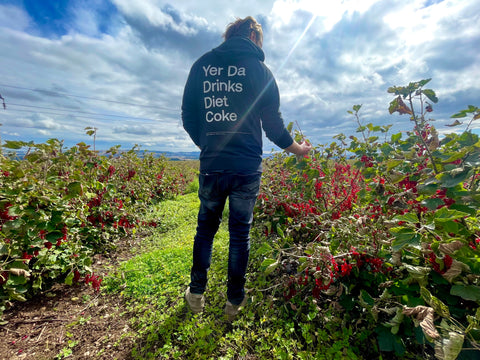 Sustainability
Designing out Waste. Future Proofing.
For us, sustainability isn't just a policy you frame on the wall and forget about, it's more than waste and energy efficiency. It's about building relationships with our suppliers and customers that have a long lasting, positive impact. We're making long term decisions that ensure Rapscallion is here for a long time, not just a good time.
Over the years, we have analysed out inputs against our outputs and implemented the following elements, so boil the kettle and pull up a pew:
WE ARE ELECTRIC // ELECTRIFIED INNOVATION FACILITY
Modern, subversive, sustainable.
We have built our production facility in Glasgow around electrically powered machinery; divesting from fossil fuels. We are currently in the process of remodelling our whole site into an energy efficient electrified innovation hub, allowing us to play with endless fruit varieties all year round.
MORE POWER, BABY //  100% RENEWABLE ELECTRICITY
What's the point in looking at efficiency if your power source is prehistoric?
It takes a considerable amount of energy to produce our fresh fruit soft drinks so we had to look at sustainable options. We're proud to utilise 100% of our electricity from 100% renewable sources.
We're confident it makes our juice taste better, and it's less to worry about when you leave a light on. Apart from when it's £1 per kW.
Hate emissions too? We also work with DPD to get our cases straight to your door, meaning your deliveries from 2022 onwards are carbon neutral. 
WASTE NOT WANT NOT // ANAEROBICALLY DIGESTED WASTE
If you need a reminder of how bad Methane is, just lift your duvet up after a heavy night on the lentil soup. Methane gas  is produced when organic matter decomposes without the presence of oxygen. 
That methane is roughly 30x worse than carbon dioxide for the 'greenhouse effect'.
Every part of our organic waste gets anaerobically digested, thereby removing around 90% of our potential methane emissions.
Our fruit mulch that is still packed with flavour and goodness gets redirected to other local producers or ends up in our in-house innovation projects. Watch this space.
LESS IS MORE // DESIGNING OUT WASTE
Back when we first started, people turned their nose up at our cans. Premium soft drinks had to be in bottles they said!
Fast forward four years and the tide is turning. 75% of all aluminium ever produced is still in use today and over 82% of drinks cans sold in the UK in 2020 were recycled. Recycling an aluminium can uses 90% less energy than glass.
We love aluminium cans because they are lighter to transport, and they lock in that liquid goodness; the lack of sunlight on our recipes keeps that juicy goodness intact.
Our smaller 250ml format was intensely peer- reviewed by you guys; larger than a mixer and less bulky than a full 330ml can. Our award winning design reflected that same  'Less is More' philosophy.
All of our outer packaging is sourced locally in Glasgow from renewable or recycled materials and we use as little of it as possible. 
We utilise every part of the fruit in our production process. Why? Pulling flavour from every part of the fruit tastes better, and it means less of the good stuff found in landfill.
SHOP LOCAL, THINK GLOBAL // PRIORITISING LOCAL SUPPLIERS
We rely heavily on a local support network here in Scotland, one that includes our design, manufacture, and our materials as well as our produce, our suppliers and our packaging materials.
Working with businesses and individuals around us helps us to build resilience in the local economy and avoid the disruption felt around the world right now.