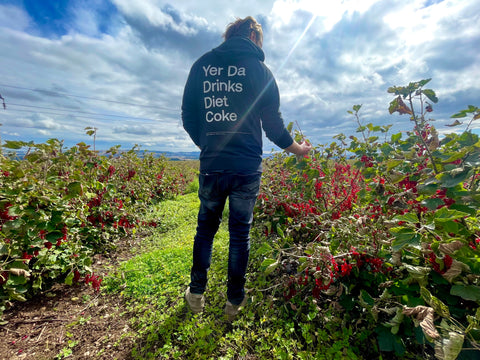 Our Values
NEVER FROM CONCENTRATE // RAW INGREDIENTS
Natural is Good, Fresh is Great, but Raw is The Holy Grail.
You wouldn't drop a pinch of bovril powder in hot water and call it natural steak juice would you?
So why the hell are you drinking soft drinks made with essences, concentrates, preservatives, emulsifiers and stabilisers under the guise of 'natural'. 
We found that if you want to make a great tasting ginger beer, the best place to start is utilising the best raw ginger you can get your mitts on. It's not rocket science, nor should it be counter intuitive.
Proper soft drinks made from proper fruit, no shortcuts. Pretty simple, eh?
FLAVOUR FIRST  // REAL FLAVOUR 
If it doesn't taste great, we don't sell it. Full stop.
Great flavour starts with the best produce, but we covered that in the above section, so keep up slow- coach.
We found that using the best fresh produce in turn demands the most exacting techniques to best extract that natural taste and aroma. It is our job to pull all the nuance from each piece of fruit and lock that flavour into each can, relying on contact time, pressure and low temperatures to pull the exact taste we need, without destroying the delicate stuff with aggressive heat.
Organic raw cane sugar helps bind these flavours together, a little Vitamin C stops any oxidation and once we've found that balance of sweet, sour and bitter, carbonation elevates all elements to the point that they jump out the can.
We work hard to integrate layers of flavour in our juice, which should unravel as your glass warms & carbonation subsides. These are soft drinks reimagined for Adults. 
Sharing is optional.
SUSTAINABLE INNOVATION // MADE IN SCOTLAND
Ever heard of a carbon negative soft drink?
We've heard whispers of such claims, but we're not convinced that buying up carbon credits counts. We prefer to design out waste from the start.
This year we are working closely with Scottish Enterprise and Circular Glasgow to ensure we hit our ambitious target of Net Carbon Negative by 2025.