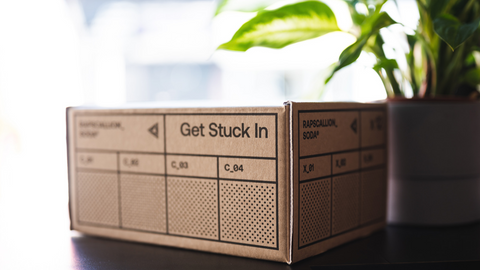 The Long Story Short | 03 // Rapscallion 2.0
I must warn you, the following story has no drama, nor is there 1 mini violin because we have been stepping up our soda game and there's too many things to be excited about!
So have you noticed any changes yet?
We got a NEW WEBSITE, that's right, the new website that we have been talking about since November last year has finally landed and we can't wait to hear what you think.
It took a little longer to build then we expected and there are some teething issues but we listened to all of your advice and comments over the years and have made huge improvements to the subscription service, DIY boxes, how you can interact with us as a Friends w/ Benefits customer, we have a LIVE chat on our website, so you can now talk to me anytime!
Plus, we added some pages telling you a little more about us.
(apparently, we dont talk about ourselves enough!)
And this is just phase one of Rapscallion 2.0; we have a few more surprises up our sleeve that I think you will like but you will have to wait a wee bit longer for them.
Since we last spoke back in mid June, Gregor and I have been busy little bees but we managed to visit one of our Stockists, The Glenturret Lalique Restaurant, partly for business but let's be honest, it was mostly for pleasure. 😉
If you haven't been, it's a MUST experience.
They were just awarded a Michelin Star this year, just seven months after opening and boy, do they deserve it. The food is absolutely mouth watering and the service is second to none. The team they have put together for this restaurant is seriously amazing. There is so much skill and knowledge behind that kitchen and bar, it would be impossible to not have an amazing experience.
They are normally booked out 3 months advance but Gregor managed to surprise me with a booking for my birthday.
Hello birthday champagne and oysters!
I was one happy lady and that was just the beginning; we had the BEST wagyu steak I have ever had (no joke), delicious haggis and monk fish tempura with the BEST gluten free batter that I have ever tried. 🤤 (Poor Gregor is gluten free now and these days he is constantly missing out of his favourite foods)
So the fact that they offered to do the batter gluten free for Gregor had us blown away, let alone how awesome it was. You seriously wouldn't even know it was gluten free, the crunch was that good.
If you are looking to visit; it is located in crieff in a really beautiful spot in the highlands and my advice would be to take a train or a taxi because their wine and drinks list is way too good to miss out on.
If your keen on low'n'no drinks. Don't worry, they have you covered!
(Not a paid advertisement, just really really really really really really LOVE their food)
In July, there were a lot of moving parts.
We hit the BUY button on our new machinery that when installed will ramp up our warehouse to making 13X our volume output.
What does that mean?
It means, we are going to be making a lot more JUICE for you! 💪
Gregor stepped up our Wim Hof game from swimming in the loch to buying a whisky barrel.
Call us crazy but we think it actually works!
I always come out feeling crystal clear and stronger then before.
We have starting off nice and slow; no ice yet, just naturally highland chilled water. We were timing ourselves on how long we could stay in for and I was winning but unfortunately, Gregor beat my time yesterday. (everything is a competition with us! 😂)
I have to give a shout out to Wendy, Gregor's mum, who also jumped in.
She is amazing and I love her energy!
We got the gang back together with our friends at Freytag Anderson to create this hot little number for you.
Our Brand NEW Soda Case!
Even when you thought that maybe we didn't hear you; we took your comments on board, ditched the iPad style soda case for something that we think you'll love, is a little more fridge-friendly and will be much easier for us to put together.
Plus we reduced our material needs by over 30% whilst ensuring these puppies can handle a lot more rough and tumble.
As always, designed, printed and manufactured in Glasgow with plenty of attitude.
This crazy cool dude had a major sugar rush on his 1st Birthday.
I can't wait to show him this photo when he grows up.
We are also SUPER excited to announce that the Gregor and Sophie Show has grown and it's now.... The Gregor, Sophie, Adam & Clare Show!
That's our working title, we might just call it The Rapscallion Show?!
Adam and Clare have now officially joined the team and we couldn't be happier. They are both young, ambitious and bring a wealth of talent to the team, plus they believe in our Rapscallion ethos in creating sustainable manufacturing here at home.
In August, we made NEW friends with the family run business, Peter Marshall's Farm and I have to say their ethos could not be more aligned with us at Rapscallion.
We visited them last week and I got to truly appreciate the hard graft that goes into every berry and damn their berries taste amazing!
This year's Strawberry Soda was actually made with their Strawberries.
Get your hands on some cans, if you haven't tried it yet.
In June, I told you that owning a small business was a juggling act, where the highs are sky high and the lows are like losing the wind in your sail.
Well baby, we got the wind back in our sails.
Now back to working on our next Scottish Seasonal Soda.
Warmest Regards
Sophie ✌️